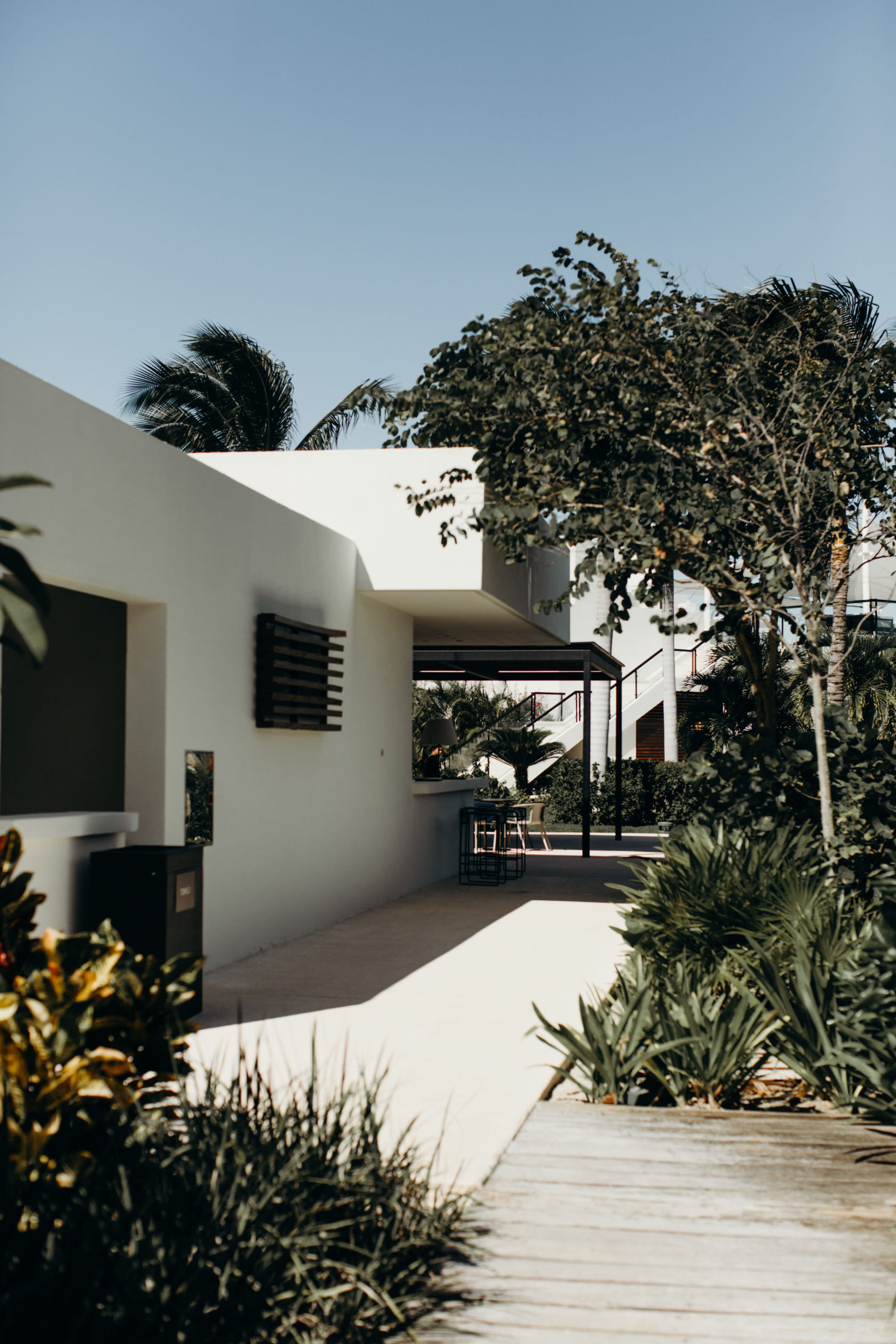 In a pristine tropical landscape nestled between the Caribbean Sea and a wildlife preserve, Finest Playa Mujeres offers the pleasures of a world-class spa, over-sized suites and a heavenly cuisine at twelve globe-spanning restaurants. And all this perfection come to you, All Inclusive!
Staying at an All Inclusive offers many benefits to large groups. Knowing what your guests trip cost is in advance and enjoying many meals together without taking your wallet out of the room or wondering who should cover what meal are just a few of these benefits. It is often difficult however to have an all inclusive resort offer just as many benefits when it comes to the wedding side, which is why many decide on off-site locations. Having said that, Finest Playa Mujeres is one of those unicorn resorts that offers All Inclusive plans to your guests, a gourmet menu, and at the same time, private and gorgeous wedding locations.
Oversize and understated. This is the most exclusive Excellence Club suite there is with a total of 3,400 square feet between two floors. Ground level features living room, bar, bedroom. Rooftop terrace level comes with private plunge pool, lounge bed and sofa area. Plus access to an unprecedented level of elite services. How is that for a "getting ready" room?
Finest Suites are perfect for families, couples and friends who are looking for an extensive range of possibilities. From expansive beds, oversize sofas, custom lights to deluxe bathing, every suite is designed to be livable for all and open to anything that piques your curiosity. Even the lead-in category and least expensive room option will be sure to impress your guests.
Who says adults get to have all the fun?
At Finest Playa Mujeres, kids aren't just along for the ride. They're along for the adventure. Junior guests get to design their own vacation experiences with all-day activities for all ages – from toddlers to tweens to teens. Away time is play time at the children's pool with its own built-in playground. There's even a pool just for babies and toddlers. Three indoor areas are grownup-free zones. Plus a kids plaza, mini spa and mini theater that offer up big-time amusements. The action is on both land and sea. Kayaking, snorkeling, sailing, windsurfing, paddle boarding, water polo, table tennis, volleyball and more are part of the all-inclusive fun.
At Finest Playa Mujeres, luxury means many things – including the luxury of knowing the whole family is having the time of their lives.
Journey through time zones and time periods to experience wellness traditions inspired by both modern and ancient cultures. ONE Spa is your pathway to purification, rejuvenation and transformation. And when it comes to wedding day, a skilled and talented team of hair stylists and makeup artists are there to make sure your bridal party is well taken care of.
Happy hour is any hour at the 16 bars and lounges at Finest Playa Mujeres.
Their top mixologists know how to whip up your favorite 'tini, smoothie or frothy libation. They'll even create a signature drink just for you. Relax with the game in their sports bar or enjoy a smoke at the cigar lounge. Chill out with a cold one by the beach or the pool. There's no need to even step out of the pool at our swim-up bar.
All premium wine, beer, spirits and non-alcoholic drinks are included in your Finest Playa Mujeres experience.
With twelve restaurants at Finest Playa Mujeres, there's a cuisine for whatever strikes your mood. And whenever the mood strikes. No reservations needed. This is such a nice feature for groups because you'll never know who you'd end up wanting to have dinner with and not having the added pressure of making reservations allows the group to organically gather as they'd like to.

Choose among globe-spanning dishes including Caribbean specialties, casual Italian, contemporary French and Asian fusion. Sample classics from the grill and the sea including exquisite lobster prepared to your taste.

And when you want to amp up the romance factor, there's even restaurants for adults only.
All dishes are made to order and, whenever possible, made from local ingredients. Healthy spa cuisine, vegetarian dishes and gluten-free options are on the menu at every restaurant making this the perfect resort for your guests with dietary restrictions.
our beautiful couple Tanya & Matt's first look at Finest Playa Mujeres.
Think of Playa Mujeres as Cancun once removed. Removed from the bustle of the strip but complete with all the makings of a world-class Caribbean resort. This is where the finest in design, hospitality and luxury meet the best of Mother Nature. Playa Mujeres is the new Cancun, an intimate and exclusive community of low-rise architecture and laid-back sumptuousness. This pristine peninsula is just north of Cancun and ideally situated between a wildlife preserve and the Caribbean Sea.
For competitive group quotes at Finest Playa Mujeres, with roundtrip airport transfers included for your guests, contact us at info@theeventeur.com